Why do your clients want term?
As you know, term life insurance is the most popular type of policy on the market. This is due to the fact that it is the cheapest and most accessible way to get coverage. Additionally, many individuals only want coverage for a period of time, such as until their children have grown and moved out of the house.
However, the cheapest option isn't always the best option...
An Alternative to Term Life Insurance
Guaranteed Universal Life Insurance with:
Return of Premium Rider

Accelerated Benefit Rider
Guaranteed Universal Life (GUL) Insurance is a great alternative for your clients who are interested in term. It allows them to get affordable, (and most importantly) PERMANENT coverage that they couldn't get otherwise with a 10, 20, or 30 year term policy.
I know what you're thinking... Yes, a GUL policy will have higher premiums than a simple term policy. But we are working with carriers who have developed a solution:
Return of Premium / Guaranteed Cash-Out Rider
If your clients' circumstances change or they no longer need life insurance, the Guaranteed Cash-Out Rider may be their way to restore financial stability. The amount of their Cash-Out Benefit will depend on which of the two amounts below is lower.
At each option period, the Guaranteed Cash-Out Benefit will be the lesser of:

A percentage of premiums paid OR

The benefit maximum, which is a percentage of the death benefit
GUL Cash-Out Rider Brochure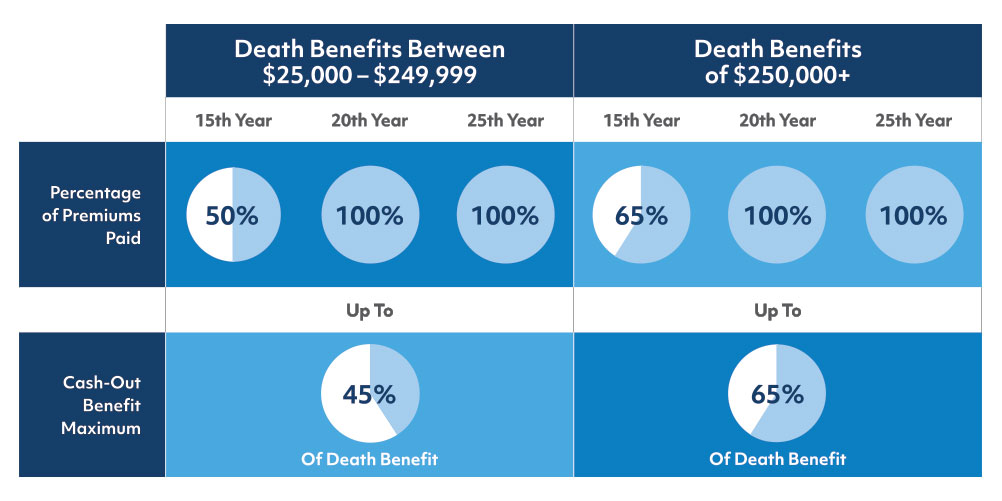 Accelerated Benefit Riders

Accelerated Benefit Riders provide the potential to receive a partial or full accelerated life insurance benefit if the insured is diagnosed with a qualifying medical condition. The Accelerated Benefit Riders can provide an unrestricted cash benefit when it is needed to help your client at a critical time and help protect the money they have saved for retirement and other life needs.